Dance & Music Classes
Teacher
Hours
Arun Jin,
Jaggo Art Center
631 472 2540
Sundays 4 to 6 pm
Regular Dance Participants
See Our Dancers in Action!
Learn More About Our Dance Teachers
Rhythmaya Dance
Company Overview
Rhythmaya Dance began as a Bollywood and Kathak Dance Academy in the DC Metro area, but over the years evolved its mission to focus on instilling culture and confidence into young individuals in our global community.
In addition to offering a variety of classes, we also provide special choreography workshops catering to fit the busy lifestyle of our clients with virtual or in-person lessons. We also have a vast array of beautiful costumes available for rental for both children and adults.
Whether it is a corporate event, wedding, birthday party or just a family gathering, our professional troupe can add a splash of color and vibrance to your next event. Our troupe has proudly performed at the Kennedy Center, Wolftrap Theater, Macy's Corporation, Association of National Olympic Committees, the Washington Nationals Baseball Stadium, New York City's Holi Festival and many other venues.
Nirathi Rao
Founder and Director
As founder and director of Rhythmaya, Nirathi is dedicated to providing exceptional quality in Indian dance instruction, original choreography, and performance services in the Washington, DC metro area. She teaches and manages multiple Bollywood classes spanning numerous locations at Rhythmaya.
Nirathi's passion for the performing arts is a product of unshakeable southern roots that can be traced to South India's Andhra Pradesh and Huntsville, Alabama. Due to the scarcity of dance instructors in her hometown of Huntsville, Nirathi began to master her craft by self-choreographing routines at the age of 10. In addition, she spent two summers in India under Smt. Sumathy Kaushal and learned the basics of the Kuchipudi Indian Classical Dance form.
Today, under Nirathi's leadership, Rhythmaya students and troupe have performed at several high profile venues in the DC metro area including the Washington Nationals Baseball Stadium, Macy's Corporation, Kennedy Center, the Patriot Center, Constitutional Hall, Wolftrap Theater, Lincoln Theater, Woolly Mammoth Theater, Legg Mason Festival, Cherry Blossom Festival and the Washington DC Convention Center.
While entertaining is a key objective, Rhythmaya also aims to perform at charity venues to promote their 'art with a cause' theme. Their famous message pieces such as "Bhoomi's Tribe--save the planet" and "Raksha -the arts will save the world" have proven to be popular in the local community.
Nirathi lives with her husband Jayant and their three daughters in Northern Virginia. In her spare time, she enjoys singing, cooking, and spending time with friends and family, especially her nieces and nephews. In addition to running Rhythmaya, Nirathi hopes to collaborate with other Arts Groups and DJs on more fusion projects to bring the best of both worlds together.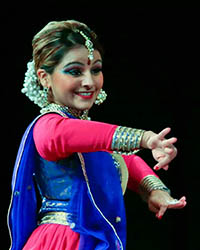 Sheila Oak Maggin
Managing Director
After 6 years of partnering with Nirathi, Sheila has helped grow Rhythmaya from a basic dance school to a full fledge Dance Company managing a Franchise in Maryland along with developing a unique Kathak Classical Dance Curriculum for our diverse student base across the DC Metro Area. Under renowned Kathak Guru Asha Vattikuti, Sheila completed her Rangmunch Pravesh in 2002.
A Northern Virginia native, Sheila Oak Maggin is professionally trained in many forms of dance including Kathak, Bollywood, Hip Hop, Ballet, Jazz, Belly Dance, and Middle Eastern Tribal and uses this diverse background to choreograph and bring many new creative ideas and projects to our team.
The Rhythmaya Dance troupe allows Sheila to continue her creative outlet of dance with a group of dancers that all have a common passion for dance. Sheila has made life long friends in the troupe and enjoys spending time with her teammates outside of the group.
Unlike other Bollywood Dance Troupes that perform mostly at weddings or Indian only shows, Sheila appreciates that the Rhythmaya dance troupe incorporates meaningful messages in their pieces — allowing the troupe to perform in unique shows such as IDEA (Indian Dance Educators Assocation)'s "Nourish Our Roots", Kennedy Center programs, and a variety of fundraising events for different causes.
Sheila works full time as a manager in Finance and Securitization and lives with her husband Daniel and adorable son Brody in Maryland. Outside of dancing, she has a passion for people, family relationships, culinary cuisine and of course embraces her Half Punjabi Half Marathi identity along wit her and newly acquired "Hinjew" culture post marriage.