About YAHA
Youth of Afghan Hindu Association (YAHA) is a division of the Afghan-Hindu Asamai temple in Hicksville. YAHA is filled with active and vibrant members who host special events during the year which focus on Hindu culture, informal education, social outings and social action. We offer events that include volunteering at a food shelter, volleyball events to raise money for a charity to hosting networking events for our society. Our mission as an Afghan-Hindu Youth group is to better help the community we are all a part of. We raise funds that go towards our own Dr. Sona Ram Lund Memorial scholarship as well as funds that will help the Asamai Hindu Temple. Everything we have accomplished is due to the undeniable commitment from the community who help support one another. We also encourage many to donate to our venmo account @youthasamai to help us fund different events.
Our Projects and Events
Scholarship
In 2016, we have raised seven thousand dollars to go to our Dr. Sona Ram Lund Memorial scholarship. This will be awarded to the students who show continuous academic excellence and great leadership characteristics. It is our goal as an organization to continue to fundraise for this scholarship to give back to community members who have helped and strived to their best to be involved within the community. It is important to help these candidates further pursue their careers and education.
Diwali Gala
Diwali Gala is the biggest event that YAHA hosts. This event is put together by YAHA and an approximate of 150 people attend this event. For the last two years, proceeds collected have contributed to the Dr. Sona Ram Lund Scholarship. Family and friends of the community gather and celebrate the great accomplishments of the Afghan Hindu Association. We look forward to awarding this year's winners of the 2016-2017 Scholarship at this year's Diwali Gala. We are proud of our recent results from the first two Gala events, and we look forward to growing this annual scholarship fund.
Networking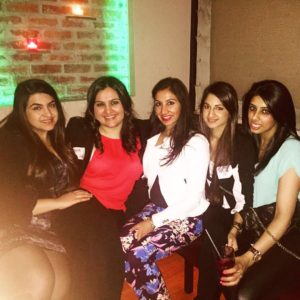 Our first networking event was held in April 2015. At this event, young professionals attended and networked together. This was a great event for young people entering the work field in order to get feedback from others. The proceeds donated at this event went to Pundit Budraj in India.
Our second networking event was held in July 2016 and hosted over 40+ professionals in a room where we had a successful event of meeting new faces from different industries and came together as a community in a way that can promote business growth amongst one another. The event was organized by Kamni C Verma and was free of charge. In the future, we strive to hold more networking events after receiving a great amount of positive feedback.
Soup Kitchen
For the past two years, YAHA has made it their goal to visit a soup kitchen and give back to the community. Many of the volunteers served lunch to over 200+ guests and wanted to help the fight to end hunger. Many volunteers also helped out by distributing clothes from the clothing closet which consisted of donated clothes of others from the neighborhood. In the future, visiting a soup kitchen is an event that we would love to continue and even increase the amount of times we visit yearly.
Day of Service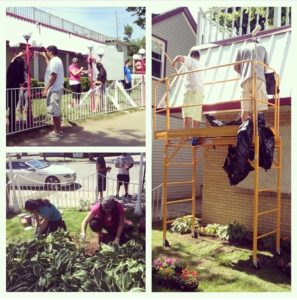 Our first day of services was held June 2014. All ages were welcomed at this event. As a team and community, we cleaned the outside of the Mandir. We performed several tasks which included painting, gardening new flowers for the summer, and power washing our Mandir to give the place a new look. We truly believe that our Mandir should be kept beautiful inside and out!
Volleyball Tournament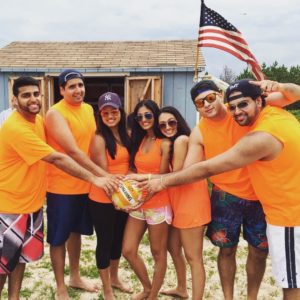 Every year as a community, we gather and host a volleyball tournament during the summer. Each year we donated a portion of our proceeds to the Dr. Sona Ram Lund Memorial Scholarship. Last year, a portion of our proceeds went to, UNICEF for the Nepali Earthquake Relief Fund. This year the winning team's choice of charity was to Afghan Relief which is a humanitarian organization which provides direct aid and education to those in need in Afghanistan.
Contact Us
Social Media
Instagram: Youth.Asamai
Facebook Group: Youth of Afghan Hindu Association (YAHA)
Facebook Page: YAHA @hinduafghan1
Email: Youth.Asamai@Gmail.com
Venmo: Youth of Afghan Hindu Association
YAHA COMMITTEE MEMBERS 2016:
Falicia Khanija
School Counselor and Self Employed
Chandni Chandihok
Hardware and Software Technician
Apple, Inc.
Monica Sundri
Assistant Financial Manager
Cushman & Wakefield, Inc.
Ricky Bathija
Assistant Portfolio Manager
J.J. Burns & Company, LLC
Bianca Chabra
Radiologic Sciences Student
St. John's University – Class of 2019
Konaal Kumar
Sales Manager
Verizon Wireless, Inc.
Aleena Suchdeve
Earth Science Teacher
Deepa Suchdeve
Economics in Finance & Psychology Student
Baruch College – Class of 2017
Nikita Chandihok
Health Sciences Graduate
New York Institute of Technology – Class of 2016
Sheetal Vig
Buyer Executive Development Program
Bloomingdales
Sneha Kapoor
Associate Merchandise Planner
Ralph Lauren
Shivangi Kumar Kakkar
Accounting Student
Hofstra University – Class of 2018
Vinson Chand
Assistant Vice President / Programmer Professional
Bank of America – Merrill Lynch
Andrew Khanija
Teller
Citibank
Sonya Khanija
High School Math Teacher
Half Hollow Hills West – Dix Hills